INTRO
THE PROBLEM
The pandemic has substantially affected the mental health and emotional well-being of teens and young adults. Nearly

4 in 10︎︎︎

report symptoms of moderate to severe depression — a 25% increase from 2018.


We wanted to rethink how people could engage with others in a more meaningful way online, especially to benefit those who want to feel supported.
OUR SOLUTION


We proposed an app called Ketchup ("catch-up") that syncs schedules between friends so that they can cook and meal plan together, simulating the atmosphere during mealtimes at college to fulfill tangible and intangible nourishments.
"Ketchup" OVER A MEAL!
Automatically sync calendars to schedule!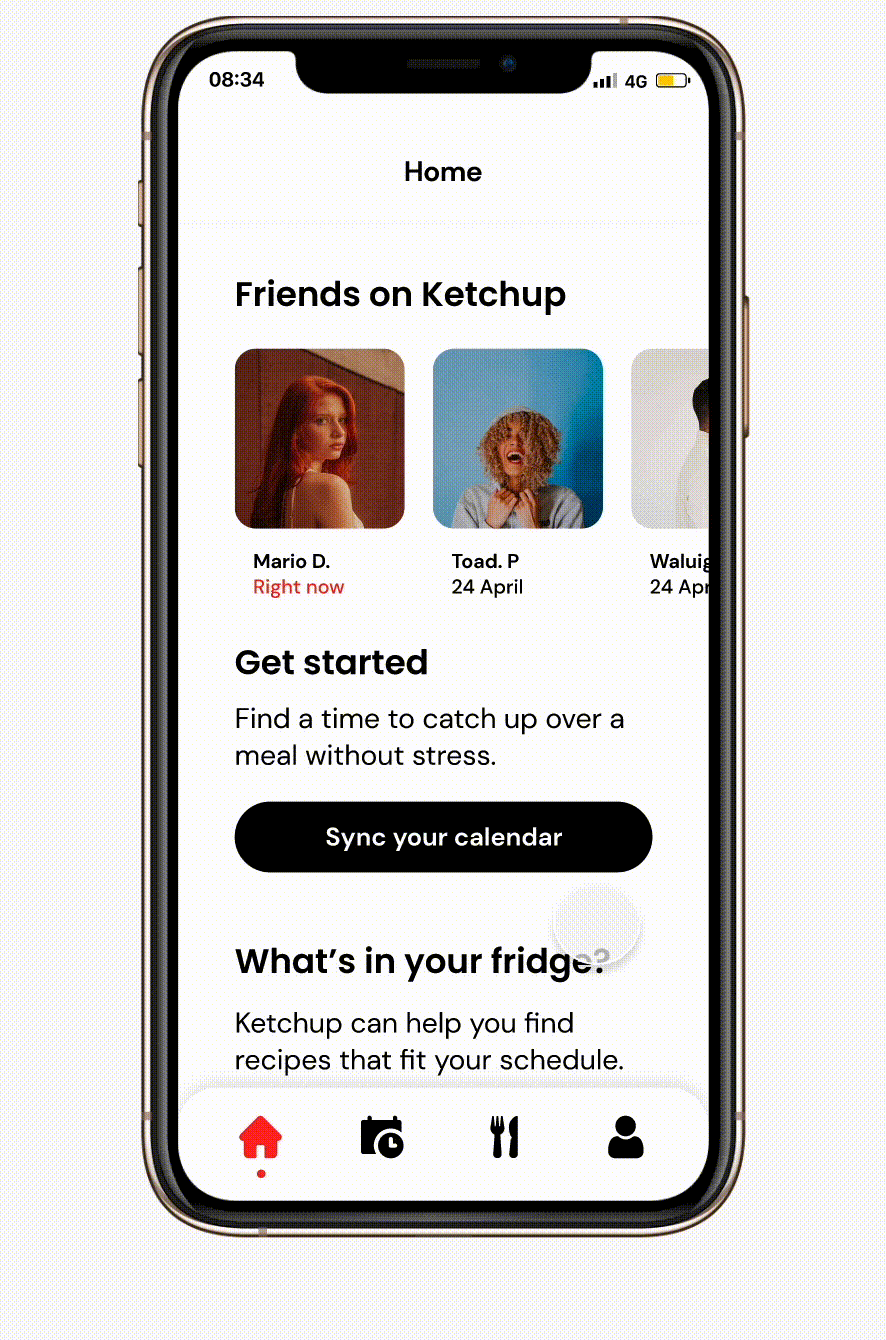 keep a personalized RECIPE BOOK!
Find healthy recipes suited to your schedule and diet. We'll create a grocery list for you.




RESEARCH

TROEMPATHY AND RESEARCH
We started by researching questions we thought were fundamental to the project, such as:

How do we define support?
How does healing happen in a virtual space?
What barriers or challenges might there be to accessing mental health support?

We looked at studies from the

CDC︎︎︎

, articles about toxic

self-care︎︎︎

, Reddit posts, and international

datasets︎︎︎

to help structure an interview plan before we began reaching out.
INTERVIEW QUESTIONS
USER INTERVIEWS

ER PERSONASUSER INTERVIEW DEMOGRAPHIC
9 participants, most being teenagers and young adults, as well as a career counselor working remotely at a public high school.
INSIGHTS
We found common patterns in their daily habits, as well as shared concerns about pandemic mental health & experiences:
︎︎︎
ROUTINE:

Our users strongly associated mental health & wellbeing with having set times and tasks
︎︎︎
MOTIVATION & FEELING UNFULFILLED:

Not having a "physical" separator between work and relaxation made each more difficult, and the online environment made it much harder to envision goals
︎︎︎ SOCIAL ISOLATION:
All of our users hoped to quickly return to the
familiar social atmosphere on campus
. For some, online messaging felt less genuine.
︎︎︎ INACCESSIBLE MENTAL HEALTH RESOURCES:
Although everyone thought that therapy and professional help was important, most felt that they were
expensive and not worth the effort
to try and access.
USER PERSONAS

TRO
After iterating over 13 user personas with different backgrounds and needs, we narrowed it down to 3 that felt were most commonly represented:
︎︎︎ THE LOA STUDENT:

A college student on a leave of absence
worried about the transition to non-student, who needs a community to replace the support and resources she was able to access while in school.
︎︎︎ THE STUDENT WORKER:
A
first-generation college student
from a low income background, who feels overwhelmed by schoolwork and the commitments he has to his temporary job and family.
︎︎︎ THE HIGH SCHOOL COUNSELOR:
A career counselor at public high school
who struggles to engage student interest online. She's worried that she's failing to help those she's responsible for, and wants to connect more effectively.
IDEATION

TRO
After generating 44 different how might we... questions, we found that these ideas propelled a small portion of our solution. After receiving feedback from Hope Lab and reflecting on our interviews, we decided to take a more user-centric approach, which narrowed it down to the idea of providing/seeking help, comfort or community without actively saying those words.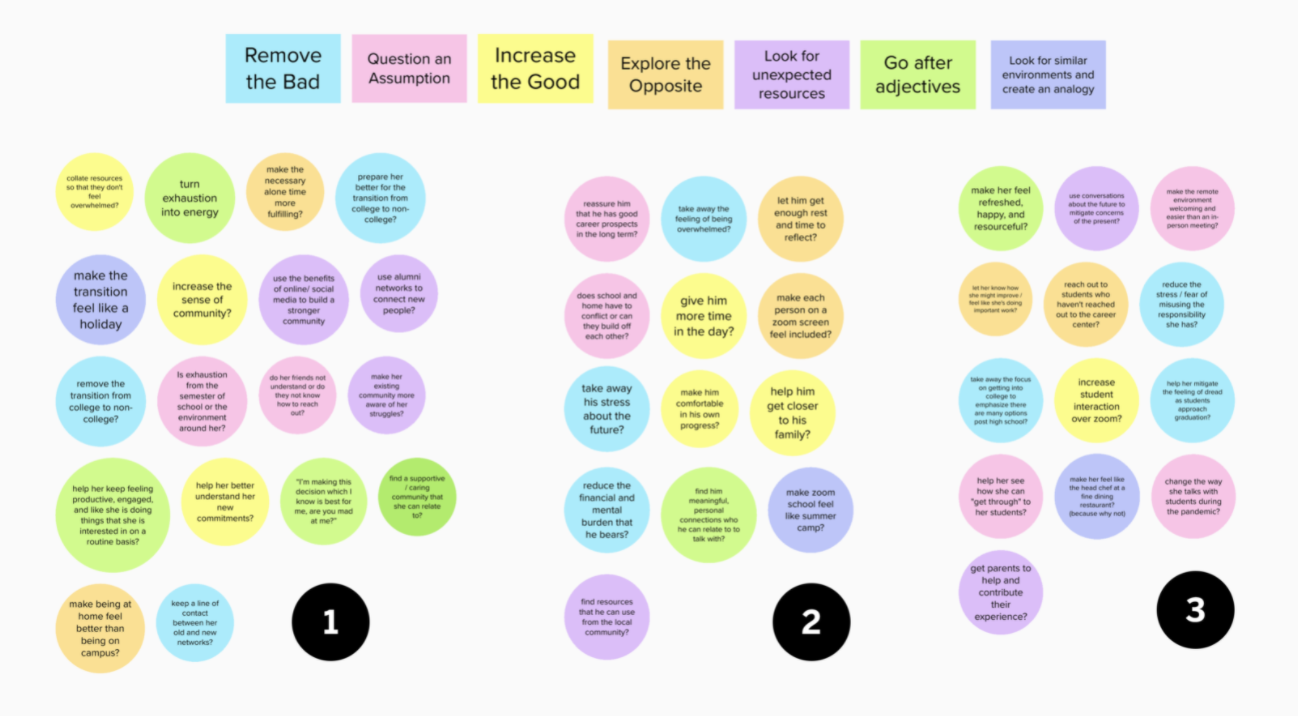 OTHER CONTENDERS
︎︎︎ MOOD NETWORK BRACELET/LAMP:

A product that lights up in different colors, encouraging friends to reach out, share, and provide support when their colors "mood" match.
︎︎︎ "CHOOSE YOUR OWN ADVENTURE" PLANNER:
A "choose your own adventure" planner mixing reflection and planning: seeing the bigger picture and goals while also helping the user think about their present.
PROTOTYPE + TESTING

TROWe decided to make lo-fi prototypes using sticky notes to mirror an "app-like" vision. After testing with sticky note screens, we decided to add a few more features:


︎︎︎A Sessions section for users to easily join existing calls with friends,rather than solely relying on pre-schedules times

︎︎︎A grocery list linking to the recipes in the recipe book

︎︎︎

Preferred "calling" platforms

in the onboarding process for users to choose preferred communication methods



︎︎︎

A flow to find recipes based on ingredients that users might already have in their fridge.
REFLECTION

TRO
This project was definitely challenging in that there were a lot of grounds to cover. We also didn't want to commercialize or exploit user interviews and their personal experiences as disposable product making ideas, so there was definitely a need for balance when listening to people's personal stories. Ultimately, Ketchup provided an insight that sometimes subtle, indirect solutions can work as well, and we don't always need to spell out our problem and solution.

Huge thanks to the team who made this experience possible: Ava Liao (also for designing the hi-fi prototype), Wing-Yee Law, and Isabelle Blaha